Food Resources in Lincoln County
Here's the latest Food Pantry Calendar as of April 1, with food pantry locations & phone numbers. Help Yourself food stands are new this month.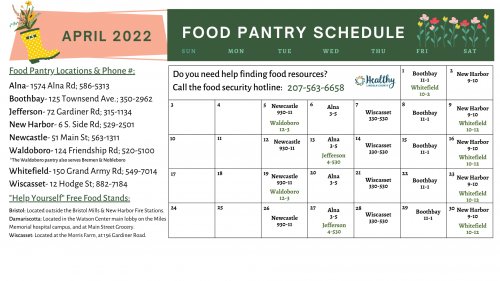 Senior Commodity Boxes are pantry-stable boxes available to those 60+ through the USDA Commodity Food Box program. The program is administered by Spectrum Generations, and the pick-up is once a month in Damariscotta.
Getting applications in early is recommended -- they need to be processed at the state level, which can take several weeks. If transportation is a barrier, HLC can help with deliveries. Please e-mail jbreithaupt@healthylincolncounty.org, if you'd like to explore that option.
The income requirements have been waived. For assistance filling out the application, please call Dawn at 207-563-1361, ext 1. Applications need to be emailed to Dawn Moore, dmoore@spectrumgenerations.org.